About Us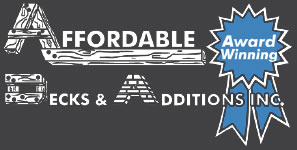 Award winning design, cutting edge technology, professional products and services, we build success one home improvement project at a time.
Affordable Decks and Additions has been improving homes in western PA for nearly 35 years with award winning design and cutting edge technology. Jeff Valperga recognized the amazing potential of computer-aided design (CAD). Already an accomplished builder, Jeff assembled a highly skilled team of designers and contractors and opened Affordable Decks in Bethel Park, a suburb of Pittsburgh, PA.
Since then we have won the accolades of homeowners in the Pittsburgh and surrounding areas western Pennsylvania area. We pride ourselves in providing a professional experience for the homeowner from start to finish. Our award winning designs offer a complete and seamless look — not the "add on" look so many other businesses render.
We are headquartered just south of Pittsburgh in Bethel Park. Because of our franchise opportunities we have grown and extened to other locations as well.
Please feel free to call, click or just stop by for a free estimate on your next home project. We would love to help improve your home and enjoyment professionally and the "Affordable Way."